Home Design Trends You Should Know for 2019
January 8, 2019
As you consider your next move or making your new house a home – you may want to check out some of these design trends to ensure you aren't dating your home. At Beltmann, we want to help make your next move an easier one – and that starts with getting your home prepped for your move. These trends will help you market your home better and put it in a better position to sell.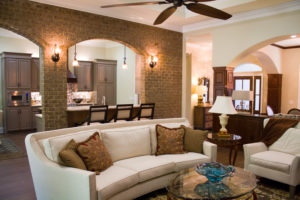 Warm Modernism
Elements like steel, glass and metals are in – but, are being warmed up with colors and textiles. Consider using raw materials like metal and wood – but then warming them up with soft blankets, pillows, curtain and rugs.
Home Technology
With the popularity of things like Alexa and iHome – our homes are getting smarter. It's important to leverage these things and look ahead to what is coming down the pipeline. In 2019, you'll see things like smart faucets, fans, windows and appliances. Get in on the front of this curve and consider upgrading your thermostat or home theatre system – these are money saving options that really will help keep your home marketable.
Get Centered
With all of the technology, busyness, and chatter – people are more than ever seeing their homes like an oasis. Creating a space for quietness is something to consider. Soundproof walls, sheer fabrics, and limited technology are all ways to turn your living spaces into a daily getaway for your family.
Organic Artisan
Local artisan décor and artwork will continue to be trending in 2019. Handmade items are great for softening your home. Imperfection, different materials, stitching, earthy elements – are all ways to bring your home back down to earth and make it feel very lived in. Tell the stories of your family through these accent items, make the meaningful and conversational.
With these tips, you'll be on your way to upgrading your home in the new year. And, as always – when you're ready to make your next move – our team at Beltmann is on standby and ready to help. We offer free, no obligation home estimates and are ready to help you move on to the next chapter of your life.
---