Buying or Selling? Real Estate Trends You Need to Know for 2021
February 16, 2021
The real estate market of 2020 took a definite hit when the pandemic first arrived, but the second half of the year proved there's something awfully contagious besides just a virus: home sales. If you're planning to move this year, what are some trends to keep in mind?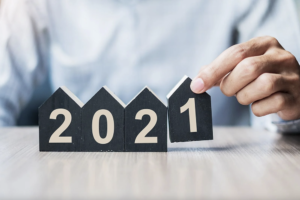 Financial expert and bestselling author Dave Ramsey's consulting group, Ramsey Solutions, has identified several trends to watch whether you're looking to sell, purchase, refinance, rent, or maintain equity in your existing home.
TREND #1: Slim Pickings for Home Buyers
According to the National Association of Realtors, existing-home sales for last year reached their highest level since 2006, and unsold home inventory sits at an all-time low supply at the current sales pace.
Just how does that translate? If you're a homebuyer, essentially it means supply can't keep up with such low demand.
Ramsey Solutions suggests being willing to give up some "nice-to-haves" for your "must-haves." It could also entail broadening your geographic reach to find a less competitive market. And without question, aim to become pre-approved for a mortgage or line of credit as soon as possible. If you're selling your home, it's great to have competition for a house sale! Just keep in mind that if you also plan to purchase your next home, you'll be in the same buying boat as other buyers soon. (See the advice above.)
TREND #2: Home Prices are Still Rising
For buyers, it's all the more crucial to know just how much you can actually afford. There are an abundance of free mortgage calculators online, or contact a loan professional to get a better idea.
Ramsey Solutions also recommends keeping your housing expenses to under 25% of your monthly budget, putting 20% down to avoid private mortgage insurance (PMI), and using a 15-year fixed-rate mortgage. If you're selling a property, this means not settling for just any offer. If you're not desperate to sell, wait for the right price to maximize your profit, as you likely have the upper hand in negotiating.
TREND #3: Mortgage Interest Rates are Still Super Low
While rates are low, it can be tempting to purchase more os a home than you really need. See Trend #2 to help avoid overspending, yet still take advantage of low-interest rates. If you're thinking of selling but aren't in a hurry, consider refinancing any existing loans to shorten your payment schedule.
TREND #4: Online Real Estate Services are Growing
It's not just Zillow to showcase your house — new services from places like Opendoor and Zillow can even buy your home! Think of it like selling to a third party. Just be mindful that this might eat into your profit! Additionally, working with a "virtual agent" such as Redfin or going through a virtual closing are more ways that the Internet is competing for your services. (For easy-to-use tips for boosting your "screen appeal" in selling a home, check out this earlier post.)
TREND #5: Risky Buying Options are More Accessible
As home sales continue on such a robust pace, more options become available such as "rent to own" opportunities — which might be helpful if you're not quite ready for a major purchase. Another unusual option is even getting a loan for a house down payment, which is not something Ramsey Solutions suggests trying. "Bottom line," they claim: "If you feel like you can't afford homeownership, it's best to wait until your financial ducks are in a row."
And that's sound financial advice, no matter what home trends are happening.
If you're considering a move, Beltmann offers a variety of relocation and storage services for any budget. Call or visit our website for a free estimate today.
---