Autumn Outdoor Decor on a Dime
October 9, 2019
You've undoubtedly given thought to staging the interior of your home if your house is on the market this season. With all the natural beauty this time of year offers though, don't overlook the potential Autumn brings for staging your front porch. If you are looking to catch a buyer's eye before they step foot inside, here are some options that will set your front porch apart and won't break the bank.
Classic
October outdoor decor doesn't have to make you think of oversized, inflatable ghosts; know that a simpler, understated look can be all you need to appeal to prospective buyers. A classic combination of wheat stalks, pumpkins, and hay bales is a cost-effective way to celebrate the season.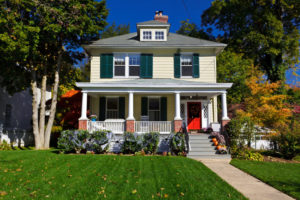 Rustic
If country chic describes your decorating taste, an old wagon or wheelbarrow filled with mums might be the perfect touch to reflect your tastes. And what's better, decorating with a little red wagon may be as simple as pulling something out of storage, or as cost-effective as picking one up while antiquing.
Modern Chic
Using white pumpkins to dress up the exterior of your home is simple. You can buy these beautiful neutrals or spray paint orange pumpkins you may already have! Play with the sizes and enjoy the simplistic, chic look this twist on the season brings.
Bargain Babe
For those who love a good deal, it doesn't get much better than this free option! Gather colorful leaves and fallen branches and get creative. Pile them high on some shelving, use twine to bundle your branches, or arrange it all in basins or vases.
Savvy Shopper
Don't forget that when one season or holiday is wrapping up, stores like Hobby Lobby or Michaels have dip discounts in preparation for what's around the corner. Shop the clearance aisle now and you can score gorgeous items without forking over what they are really worth. When next fall rolls around and you're getting your decor out of storage, you'll be able to pat yourself on the back for your savvy shopping ways!
Your decorating options don't have to be limited because you're selling your home or you're on a budget. All of these choices allow you to still celebrate the season in a tasteful way.
---