5 Charts That Will Make This Thanksgiving So Much Easier
November 14, 2016
Easy and Thanksgiving aren't usually supposed to be used in the same sentence, so that's why we love what Buzz Feed has done with these charts and break-downs. From the longevity of leftovers to what to bring to Thanksgiving or even tips for how to roast a turkey – these nifty charts should be printed, laminated and pinned to your fridge as reminders of how the upcoming holiday can be made as simple as possible.
Shopping List: Let's start at the beginning. How does anyone know how much food to buy at the grocery store – let's all be honest, it's usually just a good guess. Take the guess-work out of your planning and refer to this helpful chart.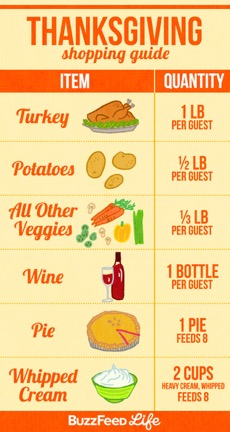 The Bird: Now you have a turkey, what do you do with it? Well, it depends on when you need it. There are a few ways to roast a turkey, so check out this chart for a quick reference.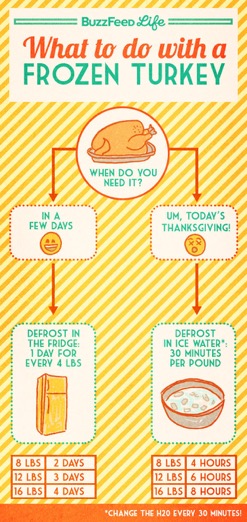 When to Take it Out: Now it's in, when is it really ready? Check the below chart for temperatures by size.

The Rest: You can't have turkey without stuffing, so we love this easy visual that step-by-step will take you through the stuffing-making-process – genius!
Just for Laughs: If you've been given an out on hosting thanksgiving this year – you're probably going to be a guest. Here's a chart to evaluate when you should bring. Hopefully, you don't end on the box of wine option.
We hope these charts were helpful as you look forward to the holiday season.
---